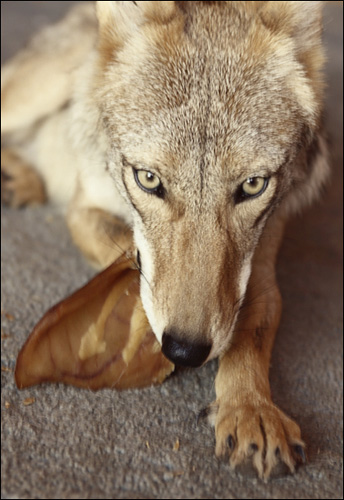 this is charlie the coyote enjoying a smoked pig ear. just like your average coddled domestic dog. charlie is so cute and clever-coyote-ish, you just want to bring him home and put him on the couch, no? i sure do.
except that shreve, the woman who raised him, does not want you to believe that raising a coyote is easy. for example, charlie the coyote - in his inexhaustible coyote cleverness - becomes easily bored. charlie will turn the kitchen faucet on and off, on and off, to provoke his boring human companion. he can turn the roomba on and off with his nose. he can open the cupboards and take all the pots and pans out, making a pile in the center of the room. he also does not accept anyone other than his two human companions, and friendly dogs.
he could probably suffocate me in my sleep. or win every game of battleship. or trick my chihuahua into trying to swim in the deep end.
so, class. let's enjoy the cute coyote while also remembering that coyotes do not make good pets. primarily because they'll erase your favorite tivo shows when you're not home.